Using Music Converter Pro
Quick Start
Select the files that you want to convert. You can select individual music files, folders of files (like album or artist folders) or video files (to extract and convert the sound track).
To select files, you can either:
drag them onto the Music Converter Pro window;
click the Select Files button; or,
choose File > Open (Command + O).
Select your desired output format using the icons along the bottom of the window (iTunes, MP3, etc.). The Other option lets you chose from many other formats (built-in presets) or create your on presets.
Click Convert. Music Converter Pro will begin converting the files in your queue and work its way through the list.
The icons on the right tell you exactly what's happening.
Managing Tracks
Adding and Removing Tracks
You can add additional tracks, or remove tracks, at any time:
To add tracks — drag files to the list window or choose File > Open (Command + O).
To remove a single track — before converting, move your mouse over the pending icon and click the remove icon. Alternatively you can right-click the track and choose Remove.
To remove multiple tracks — select all the tracks you want to remove (Shift-click or Command-click for non-contiguous tracks), then right-click and choose Remove Selected.
Sorting Tracks and Managing Track Numbering
You can manage the order of tracks within an album, and their track numbers, in a couple of ways:
Simple, quick way — Dragging a track to a new position within an album will update the track order. All tracks in the album will be renumbered (from 1) to reflect the new order.

This method will always result in album tracks being sequentially numbered from 1.

Slow but flexible way — Select a track and click on it's track number. Type in a new track number and press Return. The tracks will be re-ordered to reflect the new numbering.

This method allows you to have duplicate track numbers, omit track numbers, or create albums that do not start with track 1. However, if you subsequently drag a track to re-order the list, the tracks in the album will be renumbered from 1.
What the Icons Mean
TIP: Some of these icons only appear when you mouse over another icon - try it, you'll see.
| | |
| --- | --- |
| | Pending Conversion — locked and loaded, raring to go. |
| | Remove File — not happy, get rid of it. |
| | Converting — it's all happening, hold your breath. |
| | Sending — we've done our bit, now we're sending it to iTunes. |
| | Success — yay, the magic has happened! |
| | Show File — let's you view the converted file in Finder (boring). |
| | Error — Uh-oh, something bad's happened. We hope you never see this. Click to report the error. |
Managing Your Own Presets
Music Converter Pro comes with a number of built-in presets, but you can also create and save your own:
Click the Other format option and select Manage My Presets. The presets panel will be displayed, with your current or last used preset already loaded.
Use the Manage menu to add a new preset, delete the selected one or choose a different preset.
If you make any changes to the settings (Format, Bit rate, Sample rate, etc.) the changes are immediately applied to the current preset.
To rename a preset simply type the new name in the Preset Name text box.
Viewing Source File Information
Right-click on a track and select Get Info, or select a track and press Command + I, to view the properties of the source file. The Inspector window is displayed showing the file's details.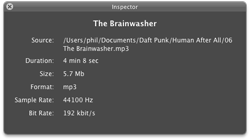 Set Your Output File Destination
Click Set Destination to choose where you'd like Music Converter Pro to save your converted music files.
Adding Tracks to a New Album
Right-click and choose Add to New Album. A new album is created and the track is moved into the new album.